Sorry for the lack of posts ladies, but I have been under the weather. Its been freezing cold (to me at least) in Texas and I caught this horrible cough. Two bottles of nasty cough medicine later and I am almost 100% better.


So today was a big day for lots of Houstonians, the lineup for the Houston Rodeo was released!!! OK I know many of you probably don't care for country music or seeing kids chase after some calves, but its just something hubs and I look forward to every year. The Rodeo lasts about the whole month of March and kicks off the the BBQ cookoff. Texans don't play when it comes to BBQ so they throw a big party for the cookoff to start things off right. The rodeo season is then followed by a month of awesome concerts! There is also the carnival that is fun for kids and "older kids", but if you don't care for the games you have to have the food.

Ever try fried oreos? How about a fried snicker? I know you guys are probably reading this in disgust, but seriously you need to try some fried oreos.
Image from wikihow.com


Rodeo time is also the time you see people dusting their cowboy boots. There was a time when cowboy boots were the trend and everybody was trying to get their hands on a pair, but here in Texas they are always fashionable :).
I wanted to show you ladies some pictures of some cute looks in cowboy boots.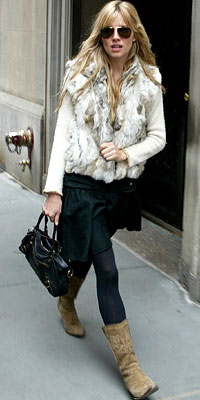 Image from instyle.com