I was doing my usual rounds catching up on blogs when I saw that With Love... had a trailer for 'Sex and the City 2"! I loved the series and the first movie. I didn't even realize there was already a trailer out for it. And you know I have to show it to you ladies.



The moment I heard 'Empire State of Mind' playing at the beginning of the trailer, I knew it was going to be good. The trailer really didn't give anything away (although I wish it did). I can't wait to see what happens in this movie. I've already marked my calendar for the premier and I might, just might try to catch the midnight showing.
The only thing that gives the fashion the show has a run for its money is Carrie's closet. Yes, I am in love with her closet. Here was the closet in her apartment. Nothing crazy fantastic, but heck much better than mine!

And then there was the gorgeous white closet that housed those beautiful blue Manolos.
One day......my closet will look this amazing.
And here are some other fabulous closets of famous celebrities. I know many of us have seen Mariah Carey and Paris Hilton's so I focused on other celebs for this post.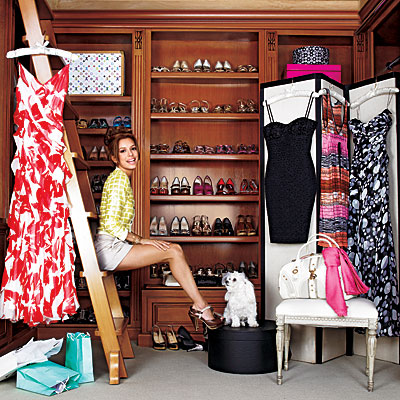 Eva Longoria Parker